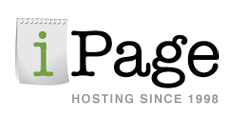 iPage.com is an internet or web hosting service that provides individuals or businesses with the opportunity to share their website using the world wide web. iPage is considered a shared web hosting service, which means that a website will be placed on the same server as many other websites. The website hosted through iPage will share a collective group of hardware resources, which enables websites hosted through iPage to enjoy a broad range of features.
Features Offered by iPage
There are four core features offered by iPage. These core features include:
-          Unlimited disk space
-          Unlimited transfer/bandwidth
-          Allowance for unlimited domains
-          Unlimited MySQL databases
While these are iPage's core features, there are other features to which iPage users will have access. These features include:
-          Online selling: free online store, choice of shopping cart, and PayPal integration
-          Designing and building a website: drag and drop site builders, template-based site builders, personalized domain name for life, blog setup wizard, photo gallery setup wizard, and Google customer search engine
-          Sending and receiving email: email addresses at website domain, web-mail, email forwarding, auto responders, customizable spam filters, and virus checking
-          Marketing the website: online marketing guides, Google webmaster tools, free Yellowpages.com listing, and credit for Google AdWords, Yahoo! Sponsored searches, and Facebook advertising
-          First-class Technology: web hosting control panel, enhanced security suite, network monitoring 24/7, high performance loan balanced servers, visitor statistics, and site traffic reporting
-          Unparalleled, Professional Customer Support: online help center, ticketing system, tutorials, 2 minute wait average for phone calls, and phone, chat, and email support 24/7
Benefits of choosing iPage.com
There are a numbers of ways in which website owners will benefit from choosing I Page, and these are just a few of the advantages this web hosting service has to offer:
Web hosting is simple with iPage – through testing and user surveys, iPage is better able to make their customer's experience more pleasing and enjoyable. It is the desire of the staff at iPage for every customer to enjoy their web hosting experience
There is more to iPage than web hosting – in addition to hosting websites, I Page also provides customers with tools such as free advertising credits, PC backup, and security applications to name just a few.
The customer is in control – with iPage, customers are afforded flexibility. Website owners at all levels of expertise can easily use iPage.
-          iPage staff desire to be of assistance – with an average call wait time of 2 minutes, customers can quickly and readily access iPage staff for assistance. Customers can rest assured that they staff with which they speak with be knowledgeable, informed, and extremely helpful.
-          iPage is reliable web hosting service – iPage endeavors to provide customers with faster load times and minimal interruptions in service
-          Customer benefit from iPage partnerships – the partnerships formed between iPage.com and other online service leaders allow customers to receive some of the best deals possible, such as free offerings from Yahoo! and Google
-          Affordable prices and excellent services – customers will enjoy a variety of online tools as well as reliable and dependable service at an affordable price.
-          Environmentally friendly web hosting – iPage is committed to offsetting their carbon emission and have purchased renewable energy credits to assist in the generation of wind energy. Their commitment to the environment means that customer's websites will be green!
Website owners in search of a reliable, dependable, environmentally friendly, and affordable web hosting service will want to consider iPage. A leader in the industry, iPage offers many benefits and features not found with other web hosting services. Whether individuals and businesses are novice or expert webmasters, iPage streamlines the web hosting process and makes having a website simple.
*Disclosure* We are not iPage.com nor do we provide web hosting services directly. We receive compensation from the web hosting companies that we review. Greenhosting.com is independently owned and operated and our reviews are genuine.