Click the below banner for $3.95 per month pricing!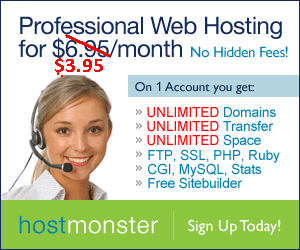 One of the most revolutionary technologies mankind has developed has been the World Wide Web. Even just a few decades ago, the world was a more isolated place in which only the largest corporations and governments conducted business with groups around the globe. The development of the internet revolutionized economics around the world and gave rise to the idea of a global economy. Thanks to the internet companies big and small can reach customers and potential clients in any corner of the world. At the heart of this operation are web hosting companies such as Hostmonster.com.
A good web hosting company is capable of providing their customers with all the tools they need to build a successful and professional looking website. Hostmonster.com is dedicated to providing every customer with the best service, tools, and assistance for a price that can fit any budget. Big corporations aren't the only ones in need of websites. Often individuals need websites to express ideas or share information, and small businesses can expand their customer base by going online. Hostmonster.com is capable of providing all of these services to any customer, regardless of their need.
Hostmonster.com opened up shop in 1996 with the goal of providing individuals and businesses with web- based services that were professional, reliable, and affordable. In the 14 years since then, over 750,000 sites have started up thanks to the efforts of Hostmonster.com. The foundation of their service is centered on solid customer service and a redundant backup system that maximizes website up-time for customers.
The web hosting service provided by Hostmonster.com gives all customers access to state of the art features that allows anyone to build a professional website. Their service usually cost $6.95/month, but for a limited time they are running a promotion that gives customers access for just $5.95/month. Customers can expect many of the services provided by Hostmonster.com's competitors such as unlimited web hosting space, free domain names, and the ability to host unlimited domains. Hostmonster.com sets itself apart from the rest by offering much more than these simple services. Among the additional basic services available to every customer are the following:
• POP3/POP3 Secure Email Support • Forwarding Email Accounts • Email Auto responder • Account "Control Panel" • Spam Assassin Protection • Webmail (Browser Based Email)
Hostmonster.com doesn't stop at the basic services provided by the majority of web hosting companies though. Because they constantly update their technology and strive to top of the line service, Hostmonster.com is capable of providing all of its customers with extra bonus features at no extra charge. These bonus features include the following:
• Social Networking • Mailing Lists • Poll and Survey Software • Project Management • JavaScript/DHTML • Flash/Shockwave
Almost anyone who spends a good deal of time surfing the web has come to realize the ease with which shopping can be completed online. Each day, millions of people around the world do their shopping online. Hostmonster.com provides an array of e-commerce services to customers wishing to reach customers online from around the world. Among the e-commerce features available from Hostmonster.com are the following:
• SSL Secure Server • OS Commerce Shopping Cart • Agora Shopping Cart • Password Protected Directories
No website would be complete without great multimedia presentation. Anyone can throw up a website, but only the best provide a multimedia experience that draws people into the website and keeps them coming back. Every account with Hostmonster.com is provided with a full set of multimedia services to help build attractive websites. Their services include support for streaming video and streaming audio as well as real audio and video support, Flash support, and Macromedia Shockwave.
While many companies exist to provide web hosting services, not all of them have the best interests of their customers in mind. Hostmonster.com is dedicated to making sure all of its customers get the best out of their service. A final example of their determination to help their customers succeed shines through in their free site promotion services. Hostmonster.com provides all customers with free search engine submission and a $50 Google credit to get their domain name out there for all to see.
Individuals and businesses can go anywhere to get their domain listed, but they would be well served giving Hostmonster.com serious consideration. Hostmonster.com is determined to provide all of its customers with the quality service they deserve at an affordable price.
*Disclosure* We are not Hostmonster.com nor do we provide web hosting services directly. We receive compensation from the web hosting companies that we review. Greenhosting.com is independently owned and operated and our reviews are genuine.