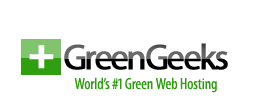 As computers and the Internet become more and more prevalent in to our daily lives, the carbon footprint the World Wide Web leaves behind is also starting to spread. From large corporations to small home businesses needing website hosting and all the services and support that come along with it, the web hosting industry is beginning to think green. Greengeeks.com is leading the charge in providing not only reliable and affordable web hosting service, but also environmentally friendly web hosting service.
Green Geeks can provide any company with top notch service and support, all while running an operation that is ever conscious of its carbon footprint. For just $4.95 a month, companies big and small can get the following features from Greengeeks.com:
- Unlimited Disk Space
- Unlimited Hosted Domains
- Unlimited Email Accounts
- Unlimited Bandwidth Allowance
Greengeeks.com pride themselves in offering customers great features such as free site migrations, free domains, and free site building software. Greengeeks.com web hosting software opens up the World Wide Web to almost any type of business. Using Fantastic, web sites hosted by Green Geeks can have any of the following inter-activities on their site:
- Blogs
- Customer Support Services
- Shopping Carts and E commerce
- Project Management
Greengeeks.com stops at nothing to provide the best service to their customers. They offer customer support that is nearly unmatched in the business world. Customers using their web hosting can rely on toll free connections to customer support from 9:00am to Midnight (EST) Monday through Friday and 9:00am to 8:00pm (EST) on Saturday and Sunday. In addition to excellent live service over the phone, customers with questions can chat online with a customer service representative 24 hours a day, 7 days a week, and 365 days a year.
Green Geeks purchases the most reliable and efficient servers to ensure 99.9% up time for all the sites they host. In addition, Greengeeks.com does not allow any one server to be overloaded with customers, a move that ensures servers do not become clogged with too much traffic. The data centers that house Green Geeks' servers are staffed and monitored at all hours to catch any early signs of trouble, and in the event of catastrophic failures that cannot be avoided, Green Geeks offers all customers free nightly backups to ensure their data is safe in the event of a server error.
What sets Greengeeks.com apart from the rest is their commitment to the environment. Green Geeks work constantly to make sure that their carbon footprint is minimized if not eliminated all together. Given the massive amount of energy needed for servers and other equipment to remain powered on at all hours of the day, Green Geeks' data centers consume a large amount of energy from traditional energy production sources such as fossil fuels. However, Green Geeks carefully monitors their energy consumption and at the end of every month the company purchases three times the amount of energy they use from wind power plants and feeds it back into the power grid to replace what they used.
But for the folks at Greengeeks.com it's more than just replacing used energy. Everything is done with an eye on conservation and protection of the environment. Green Geeks pushes employees to bring home cooked meals for everyone at the office to share, cutting down on waste from takeout meals, supports carpooling, and even avoids the expense (financially and environmentally) of moving new employees by allowing good potential workers to work remotely from home if they are not located near an office.
As of 2005 the World Wide Web and the computers and servers that support it produced an amount of energy equal to 14 major power plants. Experts believe that by 2020 the industry could surpass the airline industry as a major environmental polluter. Going green is vital for current and future generations and the folks at Greengeeks.com understand this and have adopted responsible, sustainable business practices without sacrificing quality service for customers.

When choosing a web hosting provider, the number of options can seem endless. Super Green Hosting is the perfect choice for an environmentally aware business. Supergreenhosting.com offers a wide selection of eco-friendly and economical hosting providers. These providers are all wind or solar powered, and many are also carbon neutral. The website is dedicated to providing an environmentally responsible service that features low prices and several incentives.
Some of the web site's features include unlimited email accounts, data transfers, and GB's of hosting space. There is also a free site builder and numerous one-click installations that are fast and incredibly easy to use. The site supports E-commerce web sites, along with sites that feature multimedia and online statistics. A single account allows a user to have an unlimited number of hosted websites. Supergreenhosting.com also offers customer support services to help you 24 hours a day, seven days a week. Super Green Hosting offers a variety of services to fit your web site's specific needs.
With the increase of environmental awareness spreading to all aspects of a business, it is vital for a web hosting provider to be eco-friendly. Supergreenhosting.com was one of the first green providers in existence. It has always been their mission to provide energy efficient service in order to reduce carbon emissions. Web hosting has a very large impact on the environment. For instance, a server creates the same amount of emissions as a 15mpg Sport Utility Vehicle! The server is also located in a data center that can use up the same amount of electricity as 30,000 homes. Many businesses do not realize the negative impact their web hosting provider can have on the planet. In order to make a change, Super Green Hosting uses only green Dell servers; this creates 20% less carbon emissions. In addition to a more efficient web hosting provider, Supergreenhosting.com is also involved in an environmental project that plants trees to neutralize their carbon footprint, and the footprints of others. Super Green users also have a green badge on their web site to proudly display their web site's concern for the environment.
Supergreenhosting.com users get additional ad credits for their web sites. Free site promotion credits are offered for Google, Yahoo, MSN, and more. With so many incentives and support, it is easy to see why Super Green Hosting can meet the needs of every webmaster, regardless of their experience and web hosting knowledge.
Supergreenhosting.com has received many accolades and awards for their service. Some of these recognitions include:
- "Editor's Choice" for Web Host at Findmyhost.com
- "Best Green Host" 2009 at Thetop10bestwebhosting.com
- "Best Green Hosting" 2010 at Webhostingreport.com
- "Best Customer Service Award" 2010 from Smart Hosting Choices
- "Best Support" 2010 from Super Green
Best of all, if you are unsatisfied with your service, there is a money back guarantee. It is possible to cancel an account at any time during the year for a full or pro-rata refund. This peace of mind allows a user to explore all of the award-winning services Super Green Hosting has to offer.
Supergreenhosting.com is one of the first green web hosting providers around. With unlimited services and outstanding technical support, it is easy to maintain your web site and your business with an eco-friendly server. It has never been easier to go green for your web hosting needs.
*Disclosure* We are not GreenGeeks.com nor do we provide web hosting services directly. We receive compensation from the web hosting companies that we review. Greenhosting.com is independently owned and operated and our reviews are genuine.