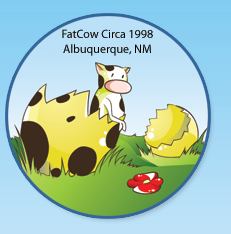 The internet is a constantly expanding world where anyone can create their own website based on personal or business use. As a result, there are numerous companies that have been created to provide web hosting services to millions of websites across the World Wide Web. Fatcow.com has become one of the leaders in the industry to provide internet web hosting services. As times have changed, Fatcow.com has taken the initiative to go green in order to help make the world a brighter place for future generations.
Fatcow.com was created in 1998 with a focus on keeping things simple. The employees of Fatcow believe in providing easy to own and easy to use web hosting services to their customers along with excellent customer service and support. Over the years, due to their dedication to provide reliable customers service and easy to use options, Fatcow.com has become the #1 web hosting company for small businesses. Till this day, Fatcow.com strives to focus on providing their expert services to small and medium-sized businesses as well as individuals looking for good web hosting services.
The services provided by Fatcow.com stack up against the best competitors in the web hosting market. They proudly offer a wide range of services that include:
- Web Hosting: powerful tools to get your website up and running fast
- Web Site Management: several tools to give your website a professional feel and look
- Domain registration and service: allows users to create a unique domain name
- Email services: create unique email accounts on your domain
- E commerce services: integrate PayPal, build shopping carts, and provide coupons
- Marketing services: all the tools to market your new website to the world
The folks at Fatcow.com proudly offer an all encompassing plan to their personal and small business customers. The Original Fatcow Plan is currently on sale for just $55/year, which equates to $4.58/month, a rate nearly unbeatable by the competition. Fatcow's Original Plan offers the following great features:
- Unlimited disk space
- Unlimited bandwidth
- Unlimited POP mailboxes
- Free domain name
- Free website builder
- Free script tools: Word Press, Joomla, and more
- SSL Secure Server
- 24/7 support
- 30 day money back guarantee.
Fatcow.com also offers marketing credits to customers, which normally isn't offered by other competitors. All Fatcow.com web hosting customers will get a Yellowpages.com listing for free. In addition, a $125 marketing credit is offered to customers to use on search engines like Google, Yahoo!, and Facebook.
The Heifer Cratic Oath was created by Fatcow.com to ensure customer satisfaction. Every employee follows this oath and is committed to keeping their customers happy. Fatcow.com also offers 24/7 customer services through email, telephone, and live online chat. Also, Fatcow.com is committed to quickly respond to any customer inquiries and setting firm deadlines for problem resolutions
The internet has developed one of the largest carbon footprints in the world, matching that of the airline industry. Powering data centers and cooling servers requires a large source of power. In order to offset their large consumption of fossil fuel powered energy, Fatcow purchases renewable energy credits from wind power farms in their local community to replace 100% of the power they draw from the energy grid with a green energy source.
Fatcow.com also provides their web hosting customers with logos to place on their web page to represent their commitment to green energy. Even the employees of Fatcow.com have followed their own green living standards. Several employees have given up their cars in favor of public transportation, some bike to work, and others minimize paper use in their offices in order to reduce their company's carbon footprint. Customers could go anywhere for web hosting, but they won't find a company as devoted to sustainable business practices and great customer service as Fatcow.com.
*Disclosure* We are not FatCow.com nor do we provide web hosting services directly. We receive compensation from the web hosting companies that we review. Greenhosting.com is independently owned and operated and our reviews are genuine.